May 26, 2020 by Stacey S. Joseph,

MBA, ODCP, CDP
Two weeks ago, Gary Casper, an executive with Transcard, a Tennessee-based software company posted a racist meme showing former president Barack Obama with a noose around his neck with the caption, in bold type – #PayPerView. According to screen grabs, Casper's profile also listed at least one previous leadership position held at US Xpress, and a position at Xpress Global Systems. Though Casper's Facebook page was predictably and abruptly deleted, screenshots of the graphic meme were shared by outraged social media users with close to 2000 people tweeting about it by that Sunday morning.
In a statement on their Twitter feed issued Sunday (May 17th), Transcard shared that "the views reflected in posts made by individuals do not reflect the views or values of Transcard. The issue is being handled according to company policy [and] the individual of recent concern is no longer employed with the company." Chris Fuller, the company's president later issued the following written statement – "As soon as Transcard realized that an employee was utilizing social media to engage in political speech, it took immediate action to terminate it's relationship with such person." Both Transcard's company statement, and Chris Fuller's statement fall completely flat with regard to the company's position or policy on racism, inclusion, or belonging. While it's obvious that the company's goal is to divorce itself from "the individual of recent concern," and to make clear that Casper's post doesn't "reflect the corporation's views or values," we can't exactly be certain what Transcard's views, values, or policies are as it pertains to race, racism, or even hate crimes.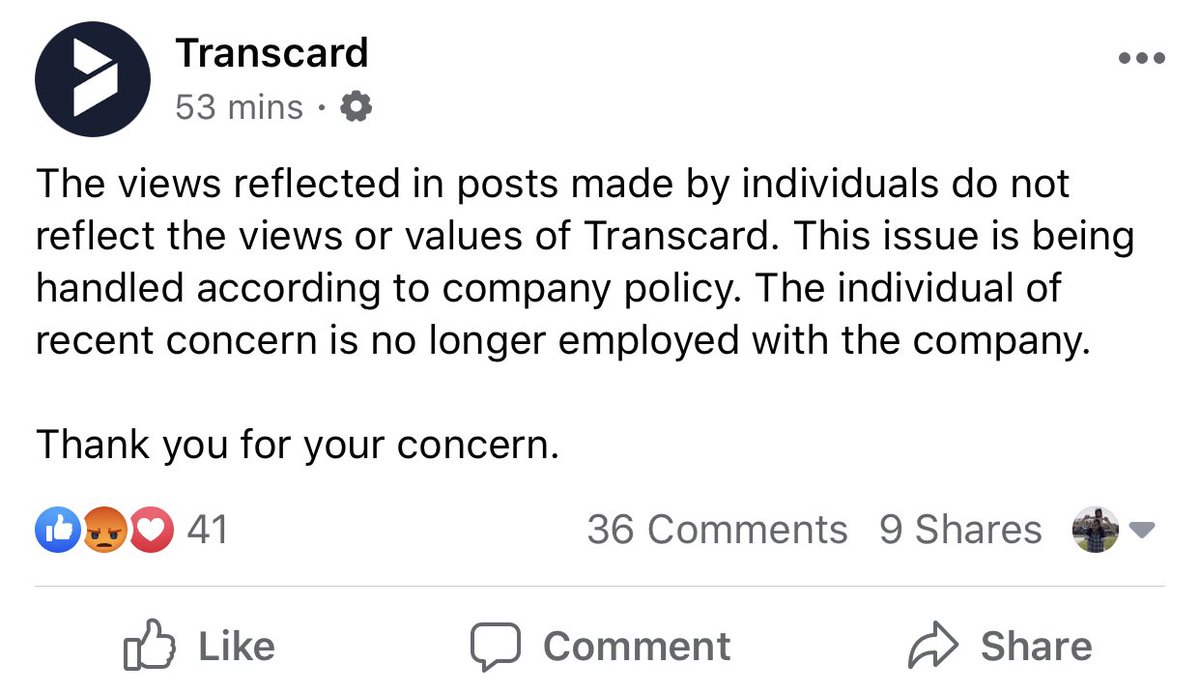 Conversations about Race are often times uneasy, and some people are still especially uncomfortable when topics of race come up in professional spaces. Additionally, concepts of racism, white privilege, and the myth of white supremacy involves value judgements. With these terms being so implicitly value-ladened, we tend to impede our understanding of racism by restricting it to individual racist acts that are easily identifiable. The issue with such an approach is that it does not allow for aknowledgement of the role and the impact of institutional and systemic racism that exists as a result of, and thrives because of the decisions, practices, and policies that are made and often times established by well-respected individuals and institutions within specific industries, and within society at large. When organizations and leaders are intentionally or unintentionally vague about where they stand with regard to racism, they leave room for ambiguity and self-governance, and their people begin to function under a 'silence is consensus' rationale, which then begins to grow and feed racially insensitive, and covert or overt racist organizational climate and culture.
If you google Casper's former employer US Xpress, of which Xpress Global Systems is a subsidiary, among other things, you'd find a 2013 race discrimination case STOUDMIRE v. U. S. Xpress, Inc.; filed against the company by Larry Stoudmire, one of the company's former employees. The federal-court complaint charged that Stoudmire's supervisor at U.S. Xpress told other employees that Stoudmire was a "no-good nigger." [Amended Compl. (Doc. No. 6) ¶ 10.] Stoudmire complained about the incident to the company's human relations department, and, several months later, the department responded, telling him that unspecified disciplinary action had been taken against the supervisor. Not long after that, the company contacted Stoudmire again, this time to tell him that he was being transferred to a job that Stoudmire believed was far less desirable than his current position. He alleged that the company gave him an ultimatum: he had to decide, immediately, whether to accept the transfer or resign his employment with U.S. Xpress. He chose to leave the company. He contended that his supervisor was never actually disciplined and, on the contrary, the company's ultimatum was retaliatory for his having complained about discrimination. Additionally, allegations of racism, along with employee reviews on indeed.com that state – "racist groups of individuals from HR to shop workers," and comments that refer to the company's culture as "Berlin Wall Racist…" So why does any of this matters?
It would appear that long before Gary Casper took on a leadership role at Transcard, he held leadership positions at other companies where racism may have been a part of the organizational culture, and the lack of clarity with regard to Transcard's policies on racism specifically, likely left room for Casper not to consider that a despicable racist post, threatening the life of a former president (which by the way is a crime), could cost him his job.
Even in the wake of Casper's firing, Transcard continues to skirt the obvious issue of racism. On Monday(May 18th), the company posted a statement on their Linkedin page, and made no reference to race nor racism, but rather referred to Casper's post as "inflammatory conduct" and again shared that "Transcard does not permit any of its employees to make any political statements on social media platforms that are affiliated in any way with Transcard." The statement is accompanied by a picture that lists Transcard's Core Values: Innovative Mindset; Community Connected; Speed & Agility; Trusted Partner; Unwavering Service; and One Team.
When Michelle Marks-Osborne*, an Inclusion, Equity, and Belonging expert of The
Marks-Osborne Group, called out Transcard in her Linkedin post, stating – "This is also WHY #inclusion and #equity fall flat in many companies. When leadership fails to embrace inclusion and equity, employees almost assuredly won't either. When leaders exhibit racist, homophobic, misogynist and sexist, xenophobic behavior or any combination, it means that the corporate environment is harmful, perhaps even dangerous.
Don't let your company be Transcard…," Transcard's response – "The views reflected in posts made by individuals do not reflect the views or values of Transcard. This issue is being handled according to company policy. This employee is no longer associated with the company. Thank you for your concern." is further evidence that the company and its leadership are uncomfortable addressing racism.
In today's world, it is essential that leaders possess the the ability to discuss race and racism. Certainly, such dialogues can be uncomfortable, and can feel overwhelming, but are valuable and beneficial to organizations, even, and long before incidents that pose a threat to a company's public relations occur. By and large, white people, and especially white people in leadership positions tend to avoid conversations about race and racism out of fear of being exposed, "saying the wrong thing," or avoidance of confronting their own privilege and/or ways in which they may be complicit. For many leaders/people of color, avoiding conversations about race has more to do with being unfairly seen as a complainer, dealing with the gaslighting of white denial, concern with regard to backlash, and the overall emotional exhaustion around constantly trying to aid white people in understanding systemic racism and privilege, while also toeing a very precarious line of trying not to implicate any one white person in their role of perpetuating structural racism, which often times leads to the character assassination of the leader/person of color.
According to U.S. Labor Department data, the number of people employed increased by 5.2 million since the end of 2016, and ethnic and racial minorities make up 4.5 million of that number. The U.S. Department of Commerce projects nonwhite ethnic groups will represent 85% of U.S. population growth between 2011 and 2050. These changes are transforming the workplace, and being comfortable talking about race and racism is becoming increasingly important.
Here are a few steps that companies can take to promote healthy conversations about race:
Be Proactive. Have your inclusion efforts include specific feedback about race. Leaders should be willing, and comfortable with asking employees to talk about how race influences their experience at the company.
Waiting for a crisis to spark conversations about race puts your organization at risk of a PR disaster, or worse, serious legal issues. Being preemptive enables leaders to have and guide the conversation in ways that are not only constructive, but that are conducive to achieving key organizational imperatives. Periodically asking the following questions can help:
Is there anything we could be doing better as a team/organization that would better facilitate your sense of inclusion, belonging, and overall success?
What specific obstacles have you noticed are in your way of success or in the way of the success of any of your team members, your respective team, or the organization overall?
Have you experienced any barriers to success that are related to your race?
Have you noticed any unfair treatment of team members that you believe is racially motivated?
With regard to work assignment, mentorship, and promotion, do you sense that these happen with/without bias?
These questions are not exhaustive but can begin conversations that will ultimately reveal how employees feel race has influenced their experiences at the company. Asking for collective feedback from employee resource groups can also be resourceful.
Reframe Conflict Using the Five A's. Organization-wide discussions about race have the potential to be uncomfortable. In the face of conflict, discussions about race can quickly go from uncomfortable to tense, defensive, and confrontational. Such discussions should be reframed as a solution-seeking process toward progress. Using the five A's can help move the conversation along. So for example, if Transcard were to engage in an organization-wide conversation about recent events in order to determine the effectiveness of their response both internally and externally, they would apply the five A's in order to assess if their response should've addressed race/racism.
ASK the answerable question.
Aquire the most relevant and best evidence to answer the question
Appraise the evidence critically for validity, relevance, and applicability
Apply the evidence. Along with input from a D&I professional, apply the evidence to the core values of the organization.
Assess the effectiveness and efficiency of the organization's response to racially charged, racially motivated, or race-centered matters, and seek additional ways for the organization to improve its responses, practices, climate, and culture for the way forward.
Rather than be caught by surprise by conflict, organizations and their leaders should expect that under the current social climate, race, racism, and other forms of 'otherization' are going to take place. Making social awareness a priority, practicing listening, and proactively providing diversity, inclusion, and Cultural Competency Training should be among an organizations culture building. Being color-cognizant as opposed to color-blind, responding non-defensively, and personally and collectively reflecting on and understanding how personal and social identities influence personal as well as professional interactions is key for organizations and their leaders. Conflict or potential conflict can serve as opportunities for improved performance and positive organizational culture change when leaders are able to foster a climate where discontent can be voiced and heard, as opposed to being treated as adversarial. Companies like ImpactEDI™ and The Marks-Osborne Group LLC can help organizations navigate these difficult discussions, and build a more inclusive culture.
Make Diversity, Inclusion, and Belonging a long-term Investment. There is a tendency for organizations to offer mandatory standalone trainings and one-off dialogues in response to an event, an occasion, or a specific time of year i.e. National (fill in the black) Month. Unfortunately, this is the current "best practice." Such practices are far too quickly and too easily dismissed as an organizational box check, and can be easily written off, thus making noticeable organizational climate changes unsustainable. Industry and organization-tailored trainings paired with ongoing voluntary participatory discussions that are informed by real-time business practices and strategy, presented consistently over the long term, can help to bring about positive and sustainable change.
When conversations about race and other forms of bias are integrated into the larger, long-term investment in inclusion, employees are able to make important connections in the context of business strategy and overall organizational goals, and will naturally understand why such conversations and shifts in mindset are both necessary and valuable. Unconscious-Bias Training which has gained traction within the past few years is undeniably of great importance. However, this is only a starting point. The overall purpose of professional development is to maintain and enhance the knowledge and skills needed to deliver service to customers, clients, and the community; as well as to ensure that our individual knowledge, and our teams stay relevant and up to date on changing global trends. Additionally, professional development helps us to not continue to do what has not previously served us or our organizational goals. Making a long-term investment in inclusion, is making a long-term investment in the overall professional development of your employees. Individual clients as well as teams with which I have worked with over the course of two to three years, through data analytics completed both by ImpactEDI™ and client self-reporting shows that ongoing voluntary inclusion training has led to significant organizational overhaul of evaluative metrics that ensure equity, an increased capacity for difficult yet valuable dialogues about race and other topics surrounding inclusion, as well as overall increased team and organizational performance.
At ImpactEDI™, we know intuitively that diversity matters. We also know that the data makes it increasingly clear that diversity, inclusion, and creating safe spaces of belonging makes sense in purely business terms. The latest research by McKinsey & Company finds that companies in the top quartile for racial, ethnic, and gender diversity are more likely to have financial returns 30-35% above their national industry medians. In order to experience the financial benefits of diversity, organizational climate has to be conducive to the retention and engagement of all employees, but in particular employees of color and culture. Retaining and engaging employees of color and leveraging the racial diversity, can't happen when you don't talk about race.
____________________________________________________________________________________________
Stacey S. Joseph, MBA, ODCP, CDP, is a DEI Strategist and Thought Leadership Coach, Founder of ImpactEDI™, and regular contributor to the ImpactEDI™ blog. She has over 20 years leadership experience in the Fortune 500 space. She has also served as a strategic and sustainability planning consultant for k-12 and higher education institutions in NY, NJ, PA. She also works with individuals and social-reform groups.
ImpactEDI™ is a social benefit company that partners with public and independent schools, school boards, institutions of higher education, associations, corporations, and social enterprises to attain equity through diversity and inclusion, while creating safe spaces of belonging.
*Michelle Marks-Osborne is a philosophical consultant within the Inclusion, Equity & Belonging space. She specializes in anti-racism and anti-misogynoir work. She is the founder and President of The Marks-Osborne Group based in North Carolina, and works in both secular and religious spaces with individuals and organizations.